SIX LESSONS WITH DELPHI

How to Live Happily with All Life




by Patricia Jepsen and Delphi

Illustrated by Kimberley Hevesy

Published in 2002
117 pages, 6" x 9"
ISBN 0-9667560-2-9

Paperback Edition $12.95

Available Through:

The University Online Store and Amazon.com
---
An Earth Partnership Manual For All Ages
---
Description
Six Lessons with Delphi is an uplifting, illustrated, practical guide to living in the circle of life. With a simple, inviting style, golden retriever Delphi emphasizes respect, kindness and friendship amongst all life as the key to happiness on Mother Earth. The themes of the six lessons are:
the kind heart
the world of partnership
the laws of the circle of life
angels and nature spirits
working together to help Mother Earth and
communicating by listening with the heart
For children, family, school, community groups, and the young at heart.
Table Of Contents
Introduction
Meet Delphi
Lesson One: The Earth Has a Body
Lesson Two: Delphi's House
Lesson Three: More About Angels
Lesson Four: All About Listening
Lesson Five: Practicing Being Good
Lesson Six: Living Peacefully
Delphi's Song
Acknowledgements
Here Are Ways to Help
About the Authors
WHAT READERS ARE SAYING...
"Absolutely 'adore' Six Lessons with Delphi. Please express my heartfelt appreciation to Kimberley (illustrator) for her special contribution to Six Lessons with Delphi."
"Patricia, your Delphi book is precious beyond words and I wish it was around years ago when I was raising my children."
"Thank you for teaching me more about earth, respect, and life in general. I've learned to be kinder to people, animals, and Mother Earth."
"I found Six Lessons with Delphi to be a very positive and moving experience with many of my students. It gives children of all ages a methodology of getting in touch with themselves. These lessons help our students build a more peaceful world."
"Your lessons have made a big impact on my actions. You gave my life inspiration."
"Introducing Delphi to young women and young men provides opportunities to open their eyes, their hearts and their souls. Ultimately, Delphi can help them discover their life's purpose."
EXCERPTS (with illustrations)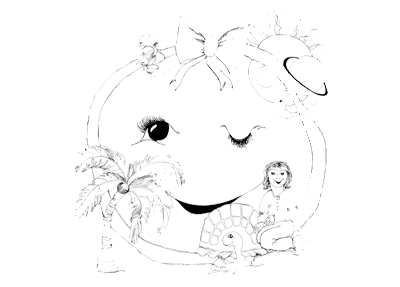 THE CIRCLE OF LIFE
Everyone is related. I mean EVERYONE. That is the way we were made...like cousins, uncles, sisters and brothers. I like to think of everyone as family. I'll give you an example of what I am talking about.
Pretend you are seeing one of the dog people in front of you. (I call them "people," you may not. But that's okay too.)
Let's pretend you see a dog person and you say, instead of "dog," UNCLE DOG. See what I mean? That denotes respect. Or SISTER HORSE. Of course, when you know their true name-like mine is Delphi-then you can say SISTER DELPHI. How does that sound to you? That's the way you can begin to remember that we are really a CIRCLE OF LIFE, all connected together by Grandmother Love. Then no one will hurt another. We will all get along fine.
---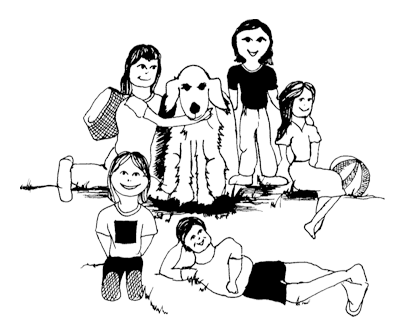 MORE SMILING!
Let's talk about smiling for awhile. Keep this in mind, one smile is worth a lot of frowns. There is no price on a smile!
I can't think of a better gift to give anybody than your smile. Can you remember how many times you have smiled today?
I guess that is really hard to remember-how many times you have smiled. Do me a favor, will you? Carry a small notebook--the kind that fits in your pocket--and for the next three days, EVERY TIME YOU SMILE MAKE A MARK IN YOUR NOTEBOOK. That's right, keep a record of your smiles.
Maybe we could have a contest later on to see who can smile the most. That would be fun, wouldn't it?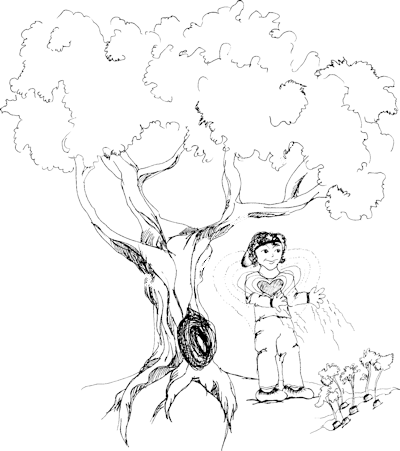 ---
LISTEN!
Don't pick anything without permission. And never cut down a tree--not even for Christmas--without first asking the tree itself if it is okay. Sometimes trees want to stay where they are and don't want to be cut.
And here is something else you should know...Guess who might be standing beside the tree when you are thinking about twisting a branch or cutting it down? A gnome! And I have to tell you, you will have a friend for life if you ask permission.
If people could learn that we are all partners and we can live together without hurting one another, that would make Mother Earth very happy.
(Illustrations by Kimberley Hevesy. Text and illustrations: copyright 2002 by Patricia Jepsen Chuse)
---